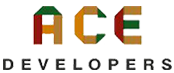 Ace Developers Mangalore - Quality Assurance
Integrating the responsibility of development services allowed Ace Developers the ability to innovate by employing a single philosophy to its services. With a central structure that allows us to control throughout the real estate development process, management of professionals, and contracting services into a single entity. This helps us to streamline the overall process itself, and makes it cost effective.
From land acquisition, to securing entitlements and financing, to full-development and construction services, to property management, our efficient team is able to provide experienced leadership from project concept, to negotiations, through the delivery of the final project.